Swing Bed Special Request Orders
Custom Swing Bed Orders
All of our customers at GOD's Rustic Workshop have such unique spaces they have in mind for their swing beds. We are constantly receiving special requests to change or add things to swing beds. So we have provided all our customers the ability to select from a few of the common requests we receive.
Below you will see the ways you can change your swing bed and things you can add-on to your swing bed. Start by selecting the size swing bed you need to fit your space, then choose the changes or add-ons by clicking on the "Add to Cart" button below the option you would like select.
We desire to make a swing bed that is perfect for you!

While we are constantly trying to think of fun, creative new items to offer our customer, we cannot think of every possible thing you might need. If you need us to make a swing to specific specification, or a change that you don't see listed below, we will be happy to see if we are able to accommodate your request. Just contact us with your dimensions and specific requests at the bottom of the page.
Jim-(828)448-8660 godsrusticworkshop@gmail.com Morganton, NC
All our products are one of a kind and cannot be duplicated exactly as shown. Dimensions are approximate. We try to closely match the wood and knots shown in the pictures but cannot guarantee an identical replica of the pictures shown. That is what makes our products so beautifully unique...kind of how GOD made you and I!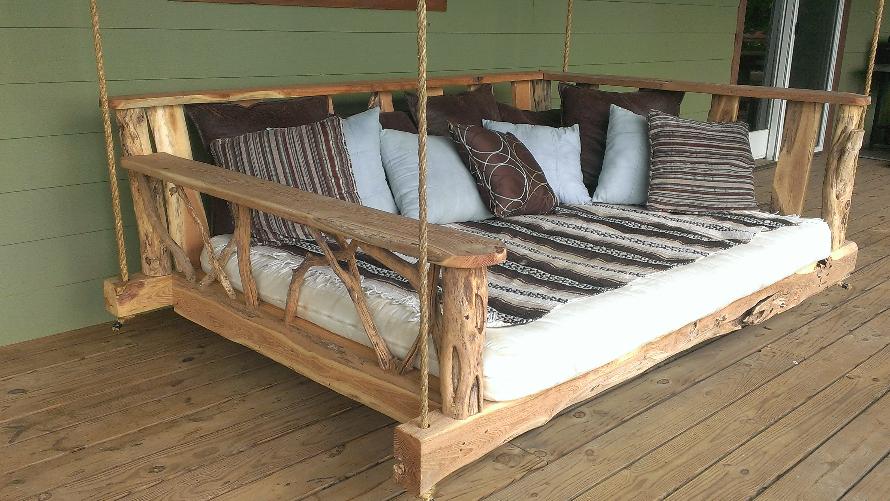 We offer a few options of swings and swing beds that have small variations. Please read carefully so that you order the swing or swing bed that will fit in your home or outdoor area best!
Watch the video to see more variety and detail!
Porch Swing "Bed"
(One arm raised similar to "head board", one arm low with accent twigs)
What a great place to sip a cup of coffee while snuggled up with a great book! This is a solid wood swing bed with wonderful locust accents. It is made with oversize arm rest tops for drinks or other items. Please look carefully at the picture, this swing bed has one arm that is high that resembles a "head board" of a bed and one arm that is low with accent twigs that works as an arm rest. This design is why it is called a "swing bed". It allows for the swing to be used as a swing or as a bed depending on the way you choose to position yourself either in a sitting or laying position. You can prop pillows on the back of the swing only and use it as a seat or you can prop pillows on the high arm that resembles a "head board" to allow it to be used as a bed. As you are considering this swing bed, please be sure to look at the space you want to place the swing bed (your porch, gazebo, portico, room, etc) to see if the arm that is high should be moved to the other side. You should consider the area as well as any view you desire to look at while relaxing on your swing bed. Moving the "head board" arm to the other side is an easy change, IF YOU LET US KNOW BEFORE CONSTRUCTION OF THE SWING BED BEGINS! The interior seating portion of the swing where the mattress is can be made to any standard mattress size. The outside dimensions of the swing bed could vary slightly depending on the uniqueness of the pieces of wood we are able to find in nature. While the mattress size is standard, there is no "standard" size in nature. Pictured with a full size mattress which allows plenty of room for several people to fit comfortably. It comes with 6 inch thick futon mattress, rope supports and 4 eye bolts. Customer responsible for hanging and supporting swing bed. We recommend you speak to a contractor if you need assistance. Pillows and blanket are not included.
When thinking about the area you will place your swing, please measure to allow approx. 12"-16" of space on all sides of the swing to allow the proper room needed as the swing will move in all directions: front and back and side to side depending on what you desire.
(If this option is not desirable for your area, we do offer Oversize Porch Swings with both arms low, with rustic twigs like arm rests. Please see below for other options.)
Shipping Options:
Option 1: *A $75 Local Shipping Fee is charged if you are within 75 miles of zip code 28690
Option 2: *Shipping cost will be applied if you are more than 75 miles from zip code 28690.
(Shipping Cost varies depending on the size swing bed you order, See below for prices)
*Depending on your location it might be necessary for you to pick up the swing bed at a distribution center or meet the driver at a location near you. Shipping trucks do not go into residential areas.
*We only ship in the United States.
*All sales are final once shipped.
Porch Swing Bed Prices:


Twin-$1299 (Shipping-$299)
Full-$1399 (Shipping-$310)

Queen-$1599 (Shipping $340)

King-$1799 (Shipping $390)

Please choose your desired size, mattress color and shipping option below: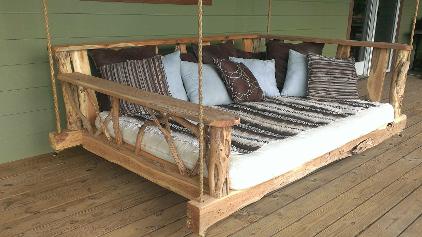 Twin
Twin Mattress Dimensions are 39"x75"x6-8"
Outside dimensions of Twin swing bed 44"x91"x25"
Twin Mattress Color Options: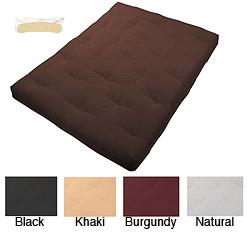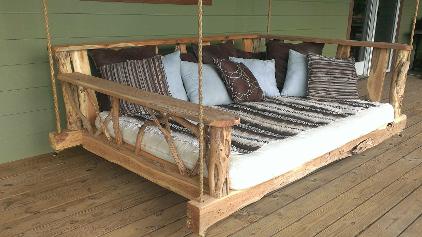 Queen
Queen Mattress Dimensions are 60"x80"x6-8"
Outside dimensions of Queen swing bed 65"x96"x25"
Queen Mattress Color Options: (pictured below in order from left, back to right, front)
Black, Khaki, Burgundy, Natural/Off White, Hunter Green, Navy Blue, Brown
Additional Swing Bed Options:
Below you will find some things you can add to your swing bed and changes you can make to your swing bed. Do not purchase these item without purchasing a swing bed above!
Both Arms Low
When you purchase a regular swing bed it comes with one arm the same height as the back so you can put pillows on it and it gives support for your entire back. With the option of "both arms low" we make both arms the same height and add decorative branches to match on both sides. Below you will see an example of a swing bed with "both arms low"
$150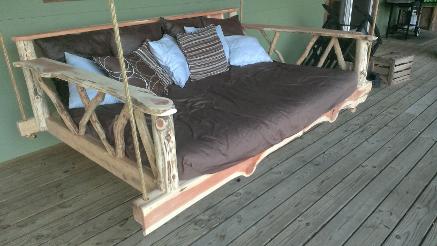 All Locust
When purchasing a regular swing bed, we use locust for the posts and decorative branches and pine for the other areas. If you are going to keep your swing bed outside in the weather and exposed to the elements, then the "all locust" option might be what you would prefer. Locust is a very durable hard, heavy wood and it is able to withstand the weather!
$450
Teak Oil
A regular swing bed is not weatherproofed. This option would be great for swings that will be left out in the weather and elements. We will seal your swing bed with teak oil for you. By adding this option, please be aware that it will darken the natural color of the swing bed.
$175
Contact Us with any Special Made Item Request